FRIEND REQUEST: MOLLY SOMMER OF THE PIPER AND THE PLANT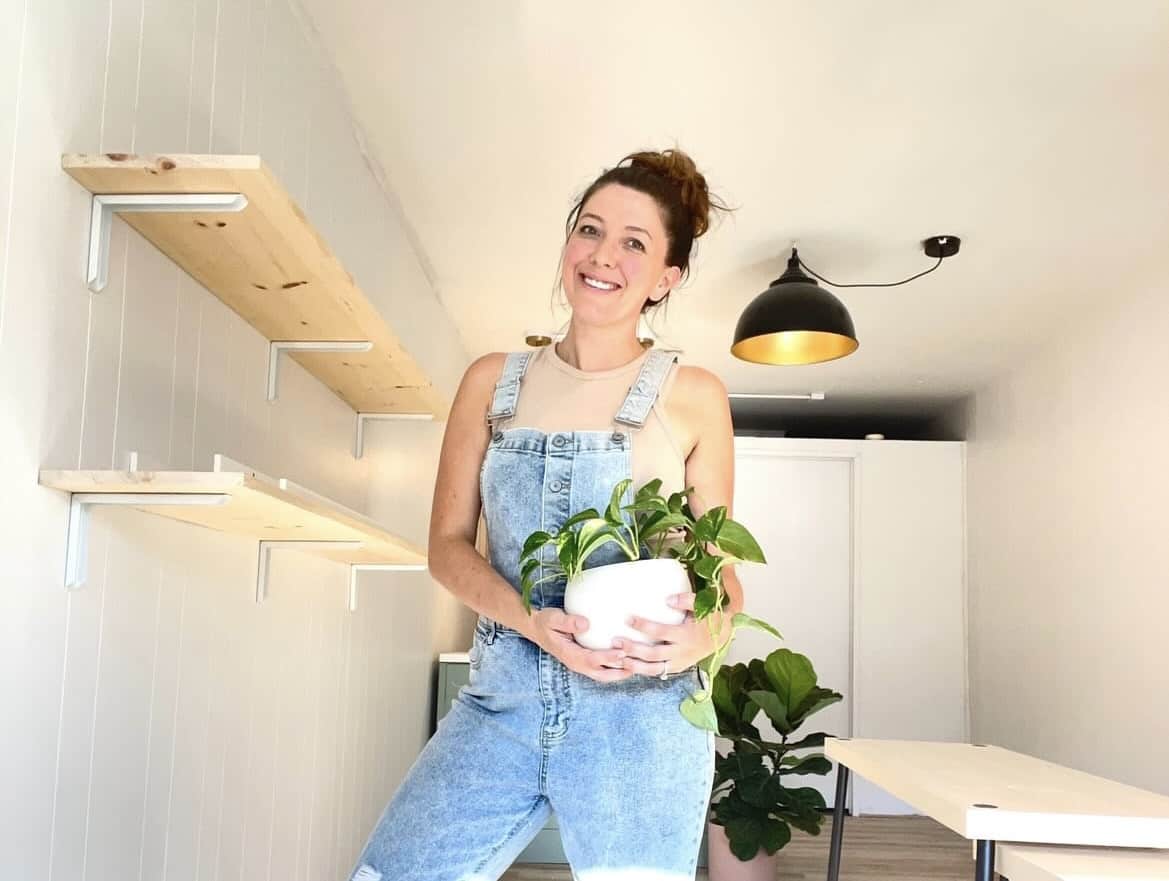 Molly Sommer, owner of The Piper and the Plant, aims to inspire and unite communities through her new business located in Crown Point. Her passion for plants, bagpiping, and creating have all contributed to her journey in becoming a first-time business owner.
LOCAL219: Has it always been in the cards to own your own business? What led you to opening "The Piper and the Plant"?
MOLLY SOMMER: No, it hasn't, this is actually a pretty new idea. It started last year. Me and a friend were actually talking about how we'd love to do a plant store and the more I started thinking about it, I thought maybe down the line that would be something we could do. I'm not only a plant person but I also make earrings. I started trying to get into some farmers markets in the area, but it was really hard and I just started thinking, "Okay, if I'm having a hard time getting into these markets, what about all these other creators?" So then, I started turning my wheels and thought "What if I opened something that sold people's items year round like a farmers market?" and I could rotate out items and give people a chance to sell the stuff that they make while supporting the people in the community! So then I came home one day and said to my husband, "I'm going to open a store," and he said okay, and here we are.
My emphasis is on trying to sell things that are made here in the area. I have some people that make candles, I have a friend that's making soaps that's based out of Chicago, I've got a friend that does headbands and kid accessories, some local art, and a ton of different items that are hand made by people. The plants are also something that I source locally, I actually propagate my own plants at my house, and I also work with a company here in the area and partner with them to get the plants in the shop. It's great because I can source most of the stuff I need locally which gives people a chance to not only buy something that makes them feel good but a chance to support people right here in the area. That's the goal of it- just to be able to support people. My hope is that I want people to walk in and just feel happy. Especially when it comes to shopping, it can be such a blessing to others when you're buying small gifts for them, but also it can be such a form of self care. I wanted to create an environment where someone could buy a gift and then also not only feel excited about what they have but be excited about what they just did, which is support somebody that is a creator or a grower or an entrepreneur.
L219: That's such a great way of thinking about forming a business. I'd like to know a little bit about what led you to choosing your store's name!
MS: When I had this idea, I was tossing around some names, and I wanted something that stuck but I also wanted something that had a little hint of my personality in it. I'm actually a bagpiper and have been playing for a couple of years now. My dad is a piper and it's actually a really big part of who I am and what I do, just playing the pipes and being involved in my piping community. It just kind of hit me, like "What about The Piper and the Plant?" That's the story behind it! I wanted to be able to tell people that they could play the bagpipes too and that there's lessons in the area. My dad is a piper and a couple years ago I decided I was going to surprise him by learning and I had no idea that this would be something that I would fall in love with. Now I play with a band in Chicago, called the Chicago Highlanders!
L219: That's a really impressive hobby to have! Gearing more towards your products, why were plants a focal point of interest?
MS: I actually really have been interested in trees and everything outdoors since I was small, and I always had this fascination that actually started with trees. Knowing the tree names, knowing where they grow, when I'm in the woods I'm constantly collecting leaves and taking them home and seeing what tree is what. That kind of expanded into plants and I love plants because it's a way to bring the outside indoors and I think it does so much good for the soul- just having something living. I think oftentimes it can give somebody the sense of caring for something which I think is so neat! Just to be very honest I think they're fun and beautiful and it's such a neat way to make your space happy.
L219: I know you just recently opened your store, I'm curious to know what has been your greatest challenge/ learning experience so far in this process?
MS: I am of course still learning so many things, but through the whole process something that's been so important to me is not sacrificing any of the vision of what I wanted for the store. I really want each item in the store to be something that was intentionally selected to support somebody in the area. Through the whole process, it's really easy to get distracted by so many things, but I just had to reel it in to just stick with the vision and it's been something beautiful. Plant wise, my house is kind of used for a plant hospital, so that's been a learning experience not only caring for the plants I would normally own in my home since it's expanded so much. It's been a learning experience to make sure I'm giving people really healthy plants but also caring for them to make sure they're ready to go into people's homes.
L219: Can you share more about what you plan to offer Crown Point through your shop?
MS: There are some really great stores down here. I love shopping at these stores, and I just want to add in a place that brings more attention. My hope is to bring more people to downtown Crown Point and to the stores around here, but also to support the people here in this community. That's my main goal with what I'm doing, I want to give people a chance to sell stuff and to feel good about the purchase they make. I'm hoping to bring a sense of pride to the people in our community and the creators and I also want to inspire people. My hope is that someone sees something someone has made, and it sparks an interest and that they take up something on their own to create. My hope is to inspire and support people right here in the community.
L219: I think Crown Point will be very excited to have a business like this on the square! What are your goals for the future of your business?
MS: I think honestly it's just to keep going and to keep filling it with local products. I think you don't always know, you get this idea and you kind of run towards it and develop your goals as you do it. I feel like I have these mini goals and as long as I keep hitting those the big goal will reveal itself. My goal is to stay here, keep supporting local people, and give people a place to shop locally. I guess we'll see what happens in the future!
L219: Finally, do you plan to host any events in your new space? And when can people plan to stop in to The Piper and the Plant?
MS: We plan on hosting some fun nights here! It's a small space but we hope to be able to teach people how to make a terrarium or how to care for a plant, I'd love to bring in local people as well to give people a crash course on how people can make similar stuff.
We're open Friday from noon to 7p.m., Saturday from 10a.m. to 7p.m., and Sunday from noon to 6p.m. We are at 104 Main St in Crown Point!